CELEBRITY GIST
Nigerian Afro-Pop Artiste Rapper and Songwriter From The City Of Kaduna.
The full story don clear now.
A Nigerian Musical Artist CALLUS SAMUEL AYUBA popularly known as SWAGGITO was spotted at the beginning of the month of August signing some papers which kept us under pressure wondering what could be going on.
It is now clear that he wasn't signing a Record Label deal, into Custody nor death sentence but signing something bigger.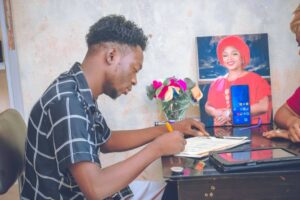 The CEO of "DE ROYALTY SPA" in person of QUEENETH JAMES official crown Swaggito as her BRAND NEW AMBASSADOR for a period of 12months starting from the month of August 2022 to August 2023. Swaggito used to be her client so lets say from Client to Ambassador. The chemistry is amazing. Goodluck on your journey Mr Ambassador.
Follow on Facebook: Iam_swaggito/ DG Swaggito,
Deroyalties Organic world
Instagram: Iam_swaggito_,
Deroyaltyenterprise_skincare